echo FaireTitreBloc("Menu","genx"); ?> echo FaireFinBloc(); ?>

| | | |
| --- | --- | --- |
| | les pros | |
&nbsp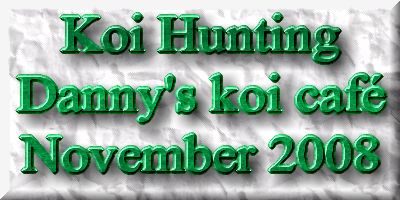 Koi Hunting of Danny's koi café november 2008 - recap 2008
Je vous propose un récapitulatif du voyage de Danny au japon et il y a de quoi voir http://www.dannyskoicafe.com/
08/11/2008
RED BEAUTY WINS KOKUGYO 85BU !
We are so happy to say that our Red Beauty SFF kohaku from bloodline
Beauty IV won :
1ST PRIZE 85BU KOHAKU and also won KOKUGYO OR RIN'OH PRIZE 85BU.
She is now 81cm and 5 years old.

There was a lot of critics on the grand and supreme champion from others.
We talked to many people, Japanese and non Japanses, and many told us
this kohaku was much better quality than the grand and supreme champion.
The grand and supreme champion are both very long but quality is not so good anymore. The hiban is on his way down on both fish. We give you
pictures tomorrow.
But here on this show it seems that size wins above quality.

But we are already so happy with this Kokugyo/Rin'oh prize.
Party tonight in Nagaoka !
And tomorrow we are still here to go to the prizeceremony.
We give you pictures of this tomorrow.
Danny and Mie
08/11/2008
BLACK THUNDER DOES IT AGAIN !
Our SFF showa BLACK THUNDER from bloodline Popeye played
1ST PRIZE in showa 85bu !
Also she was RUNNER UP up for KOKUGYO 85BU.
And she recieved also the PRIZE BEST IN VARIETY ALL SIZES.
We are very proud on this showa !
Danny and Mie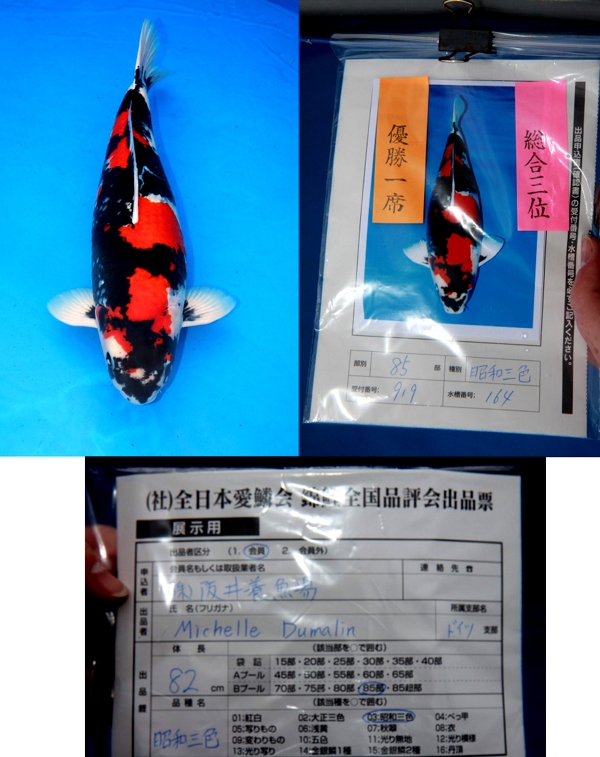 08/11/2008
3RD PRIZE KOHAKU 75BU !
CONGRATULATIONS TO MR HVDH !
He played 3rd prize on the ZNA show.
The fish was in very good condition on the show.
In size 75bu many fish were competing each other.
So very difficult to win a prize in this size.
The fish is now 75cm and we hope this fish grows
to 80 cm next year so he can compete in biggger size.
In over 80 or 85 bu, there are not so many fish.
Again congratulations !
Danny and Mie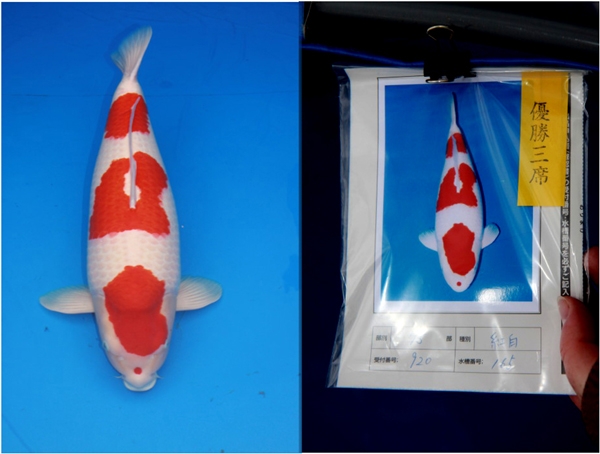 08/11/2008
ZNA SHOW OJIYA 2009
Today we visited some breeders in the morning and
in the afternoon we went to the showground in Ojiya.
And we saw many wellknown faces here, Japanese but
also European !
A group of 15 Dutch guys from NVN were there, and
also some good customers of us.
Mark Gardner of NTV was there of course. And some
agents and dealers.
Also we saw many wellknown ZNA judge faces.
At +/-3.30h in the afternoon we heard very good news.
We have 5 prize awards a this show.
You can read more in the special newsitems.
Here you also see pictures of the winning fish.
Grand champion is a sanke of Momotaro 106cm and supreme champion is a
Dainichi kohaku.
Danny and Mie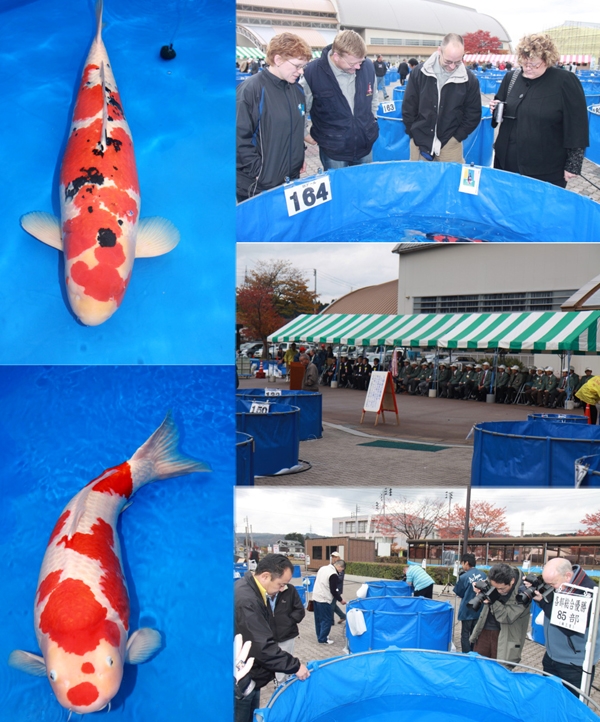 07/11/2008
KOHAKU TIME AT HOSHIKIN
We bought already some Hoshikin but now we went
to the secret place where he puts his best nissai.
And 2 of the best we show here.
Please enjoy this kohaku.
The left one is the longest one of the harvest.
And the right one is the best to go immediately to show.
This quality can stand next Matsue and Sakai Hiroshima.
Amazing quality !!!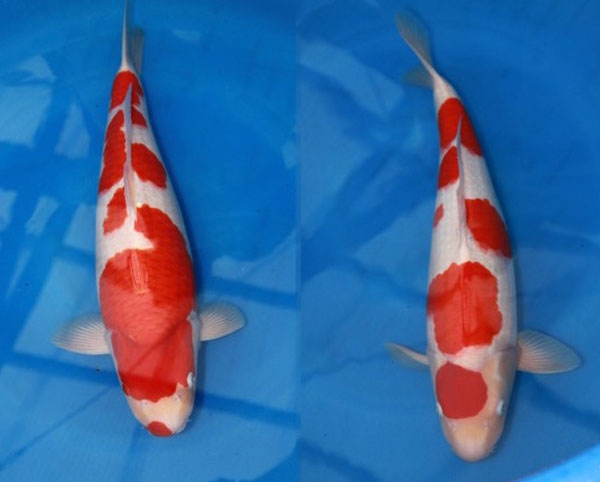 07/11/2008
OUR CROWNJEWEL AT DAINICHI
We don't want to say much over this koi.
No words are necessary.
Only Dainichi's words :
She is going to All Japan 2009
garanteed 1st prize
Maybe best ginrin showa in Japan !
We bought this koi to play ichiban in Japan.
I think the most exclusive koi we bought this trip !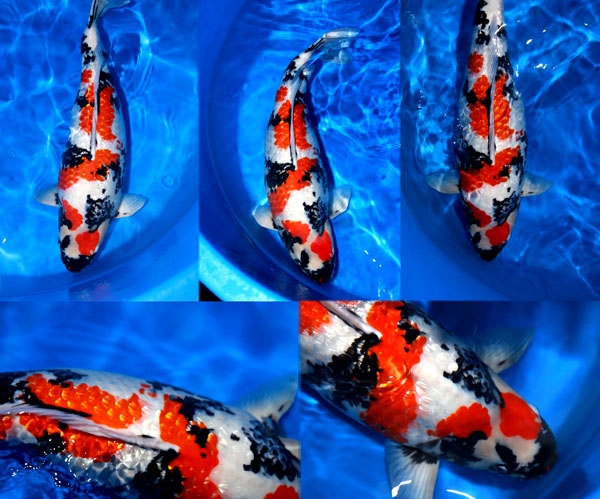 07/11/2007
DAINICHI HI UTSURI SANSAI
This hi utsuri is Dainichi bred and sansai. She is 64 cm.
She will grow easily until 85cm.
Bodyshape is very good !
She is also ready for koishow in Europe.
We did not expect to buy this at Dainichi.
But all other breeders couldn't give the quality of this fish.
Also the pattern is very good.
This 3 koi from Dainichi are coming to Brugge.
WHat do you think Danny ???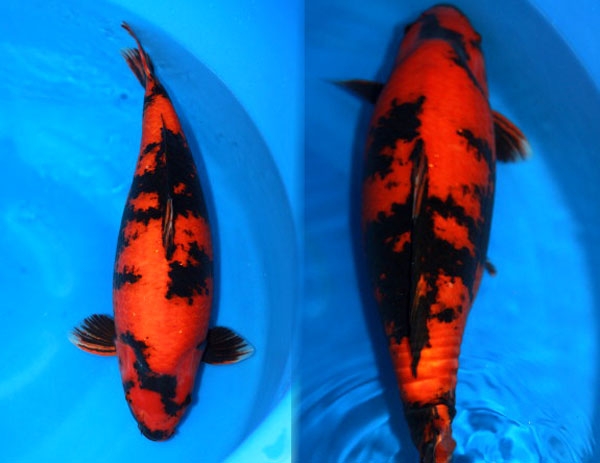 07/11/2008
SHOWA TIME AT DAINICHI
This one was chosen by Mie, she is not so big
as the kindai showa, she is only 50cm but
such a beautiful pattern.
The head is divided in 2 pieces with the
sumi and beni part, bodyshape is very good
Certainly ready for koishow in Europe !
This showa and the kindai showa are coming to Brugge.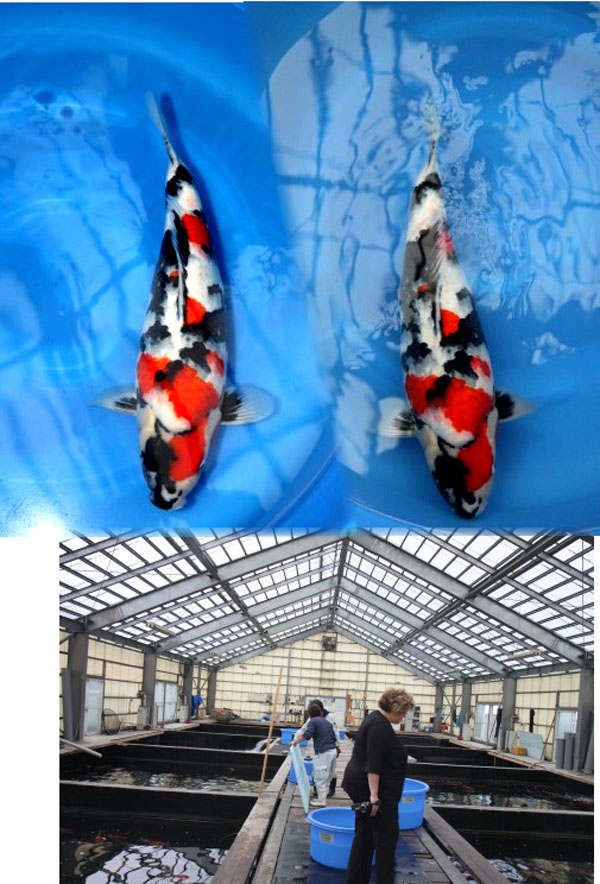 07/11/2008
NIIGATA TOUR STARTING : DAINICHI !!!
Our first visit today was to Dainichi.
We thought and also heard from many people,
that he was very expensive so we thought
to buy nothing here but ....
Prices were not more expensive than at SFF.
So we bought 4 koi here, 3 showa and 1 gorgeouis
hi utsuri !
This kindai showa is really Dainchi designed.
big body, nissai with 55cm, good for koishow
in Europe for sure !
will grow easily over 85cm !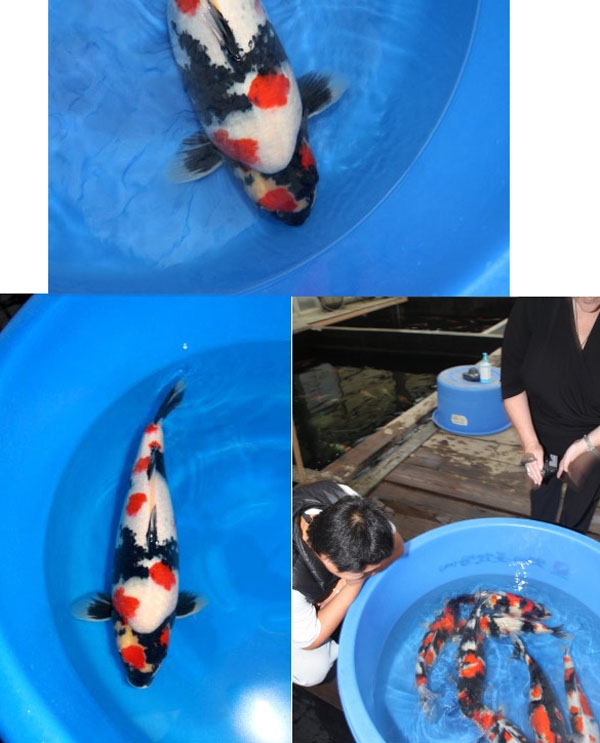 06/11/2008
EXTRAVAGANZA DAY !!!
Not many words necessary.
We only want to say : the bowl is 110cm
3 showa and a chagoi
We were very quiet then
Danny and Mie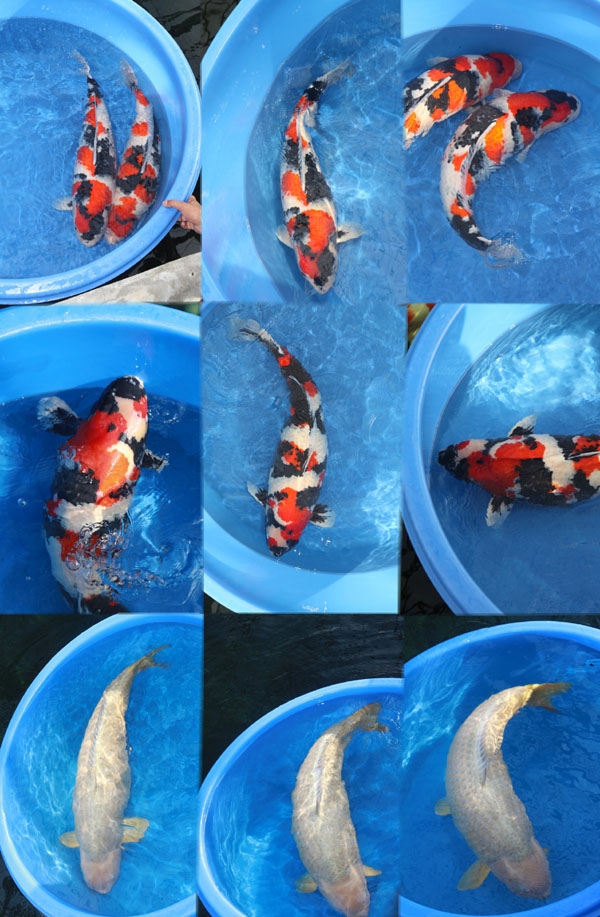 05/11/2008
KOI EVOLUTION CHALLENGE
This shiro we bought in November 2007.
Then she was 71cm now she is 76cm.
Omosako san expect her to grow over 80cm.

Sumi came up very good on the shoulder.
So even at the age of gosai sumi can still come.
Shiroi is so white ! unbelievelable !
headpattern came stronger and thicker.
Next year again the sumi will become thicker and shiny.
Then she must be ready for All Japan show.

This is really our Queen at Omosako koi farm.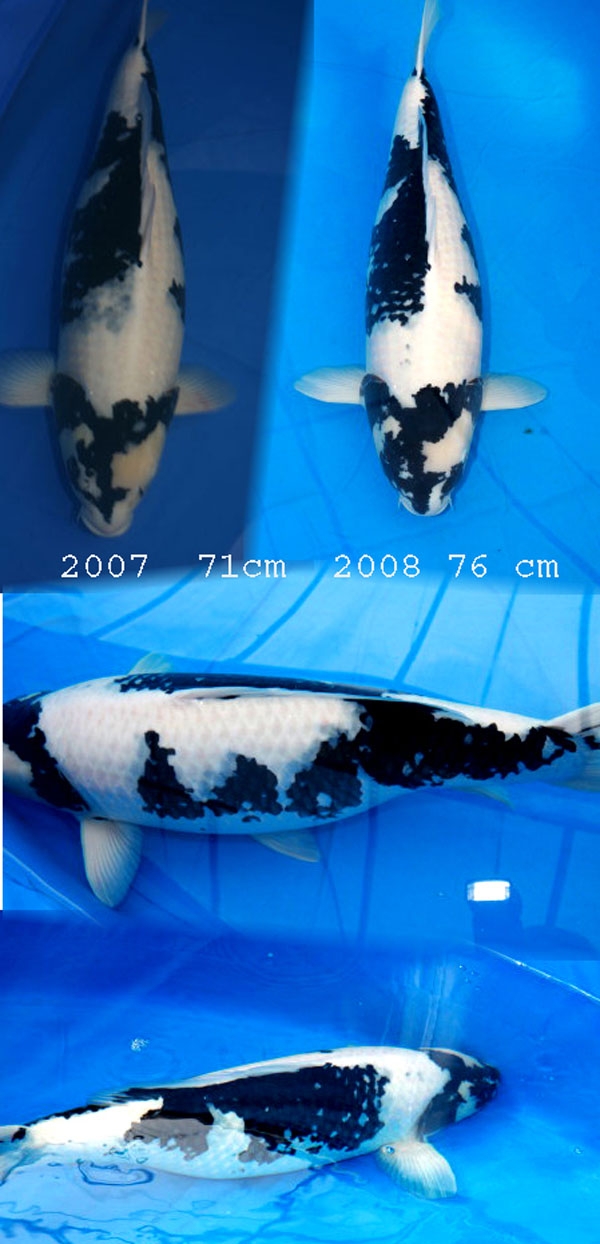 05/11/2008
KOI EVOLUTION CHALLENGE
KONDO KOI FARM

Today we also went to Kondo to see our nissai.
We bought this 2 koi as jumbo tosai in February.
And wowww what a evolution !
and growth ! certainly very satisfied !
One jumbo tosai was turned out to be male,
and we got our money back.

To Arno and Elise,
your Black Devil is going to be harvested later this month.
So sorry no film or picture today, but it will be more better
in January then for yourselves to see her live in Japan.
The koi in the mudpond is doing very well and Kondo thinks
she will be around 70-75cm !!!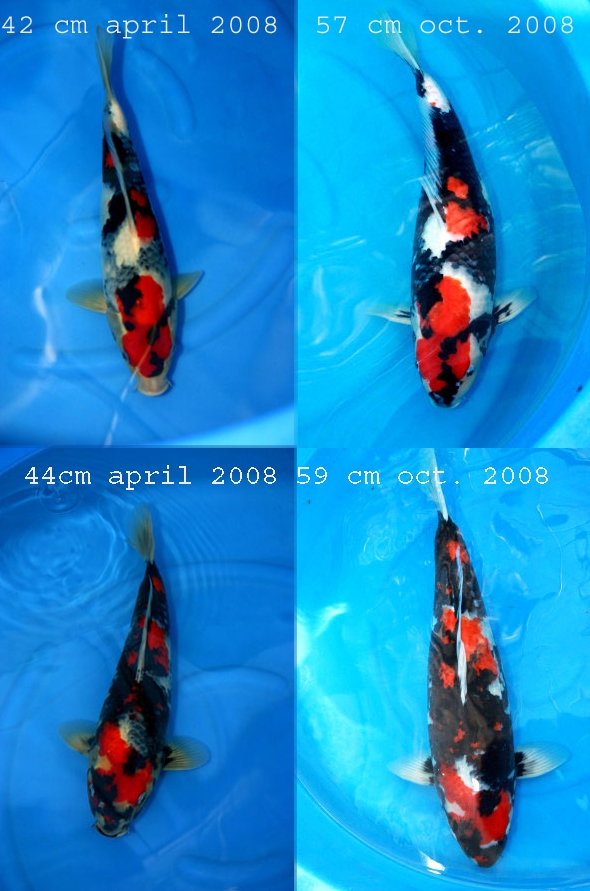 05/11/2008
DAINICHI KOI FARM NAGOYA
Today we went to see the nissai harvest at Dainichi.
We were not alone, there were others Asian people too.
So we had to choose fast.

Hiro was very friendly with us as last year we bought here
the first koi ever. So he adviced us immediately to buy the
kindai showa and kohaku.
These are the best of the harvest he said !
So we trusted him and bought them.
Mie could not resist to buy the good sumi showa nissai .
This was one is coming to the shop.
The sansai were not harvested yet because
they had no place anymore.
They are building a new greenhouse for the sansai now.
It has to be ready in one month.

So mr HVDH we cannot show your sansai showa now.
But the growing in this mudpond will be garanteed a succes.
We will take film and pictures in January 2009.

To our German customer, your kohaku is ready for koishow
in Europe if you want ? he looks very good ! deep beni !!!

Up to Kondo farm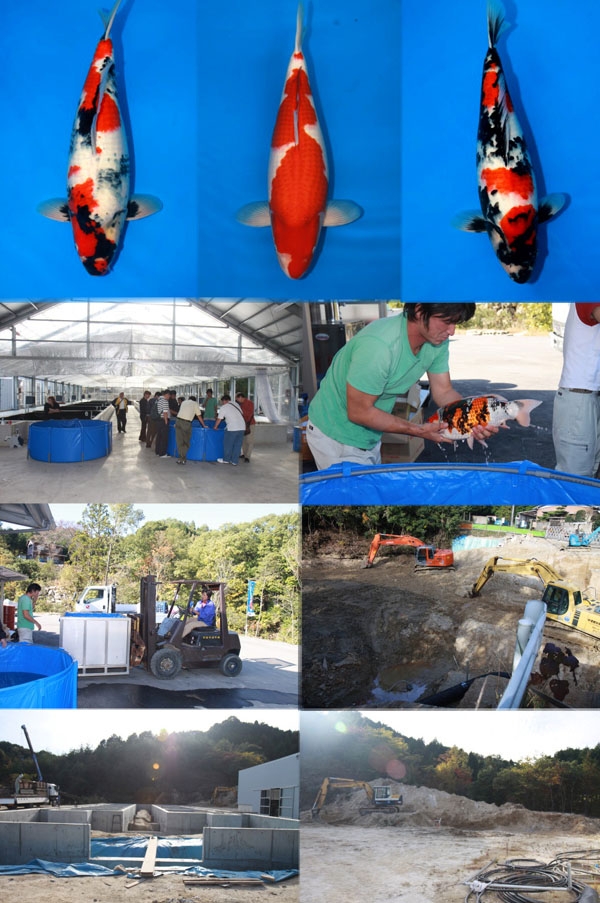 04/11/2008
SANSAI HARVEST AT MINUMA KOI FARM
Today we were in Tokyo for visiting Minuma koi farm.
We love their goshiki and ginrin goshiki ! And we were lucky !
The sansai were just harvested and arrived from Niigata
3 days ago.

Woww ! We saw the best female and male sansai of the harvest 2008.
They are both ready for koishow in Japan and the mother is 85 cm !
They will grow very big and they have a very good skinquality.
We could not resist and bought them both !

Next to the best ones we also bought some very good nissai for
koishow in Europe ! You can find them under koihunting on our website.
The startprice begins at 450 euro until 950 euro.
This breeder is the best breeder for goshiki in Japan and wins all
prizes on the biggest shows in Japan.

The koifarm is not so big and not known by European Dealers.
So we were invited with open arms and we got very good prices.

This evening we are in Nagoya. Tomorrow we are going to see the
harvest of Dainichi and visit Kondo koi farm. Our customers have
showa's there that are already harvested.
So we are excited to see the result ! So Harry, Arno and Elise
tomorrow is the big day for you and your koi.
We keep you informed tomorrow.

Bye for now

Danny and Mie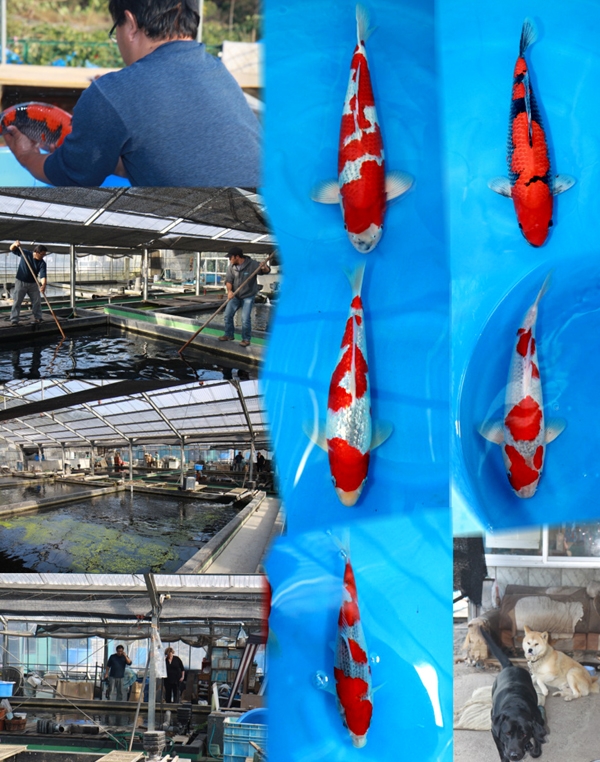 04/11/2008
KOI EVALUATION CHALLENGE
This sanke was bought in march auction 2008.
The koi is now sold to Mr J.M. from Holland.
And we must congratulate him with the evolution !
This koi came really mature and body gat even better !
Beni is very good and sumi has shrunk a bit what is good,
because now the sanke looks more refined and shiroi is
snowwhite.
And not least the size : 20 cm growth !!!!!!!!
Again congratulations John !!!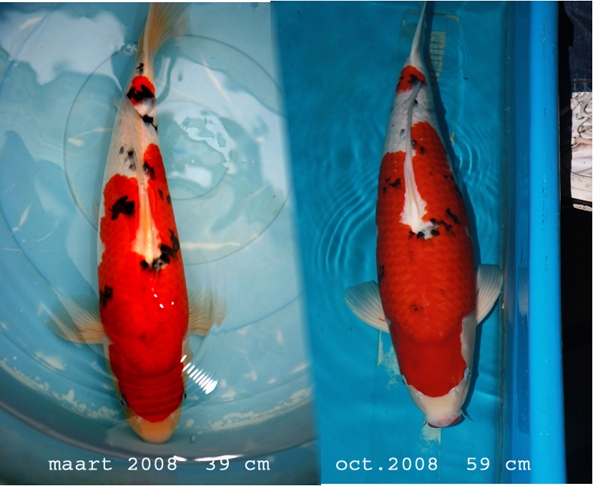 04/11/2008
KOI EVALUATION CHALLENGE
This kohaku was bought on auction in October 2005
for a customer. This was the best kohaku of the auction.

This fish was sold to J.M. and played already 3rd prize
on All Japan Show.
She grew 5 cm this summer and lost 2 scales in mudpond.
So we cannot put her on ZNA show but she is going to
the All Japan show 2009.
The koi became mature this summer. Bodyshape is now
very good and maybe another year and she is complete
ready for koishow.
Also the beni became more full and thick.
Congratulations to J.M.
koishow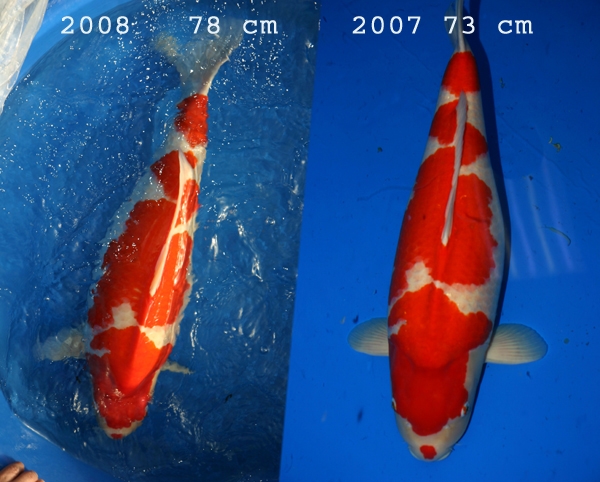 04/11/2008
KOI EVALUTION CHALLENGE
I think this kohaku has stolen already many hearts in Europe.
This koi belongs to a hobbyist from Holland.
This is a superkoi and playing now on ZNA show this weekend.
We are curious what she is going to do.
The bodyshape became extremely good and beni is complete
the same over the whole body.
This koi was purchased as nissai and is now yonsai. This koi
was also bought in auction.
We think this koi deserves at least one year more or maybe 2 years
at SFF.
And then she will be rady for Grand champion in Europe show.

Again congratulations to mr HVDH.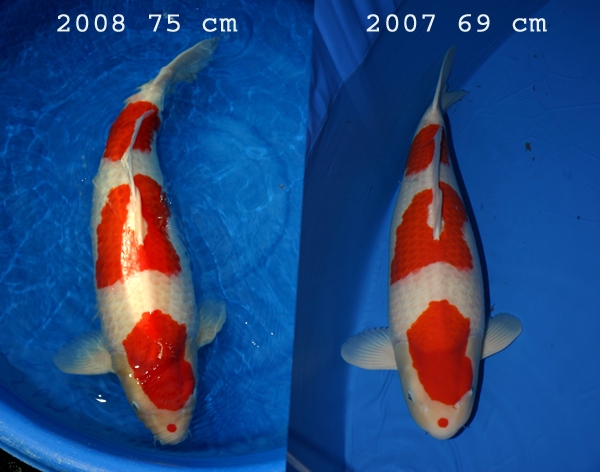 04/11/2008
KOI EVALUTION CHALLENGE
Also this koi is well known I think in Europe ?
She became already as nissai 1st on All Japan show
and on All Japan young koishow.
Next year she is going in 60bu and making chance
to play Kokugyu in 60bu ?
The koi was bought last year by Jean Hoorne,
a Belgian hobbyist.
The koi came out of the mudpond like a painting.
Ready to go to koishow immediateley.
This is a very good koi for future and now.
Thsi year we could buy again teh best nissai.
You can find her under koihunitng.
We can say that the best nissai of Omosako
is coming to Europe at reasonable prices.
And again the buyers have immediately results
with putting them on koishows and winning 1st prize.

Congratulations Jean !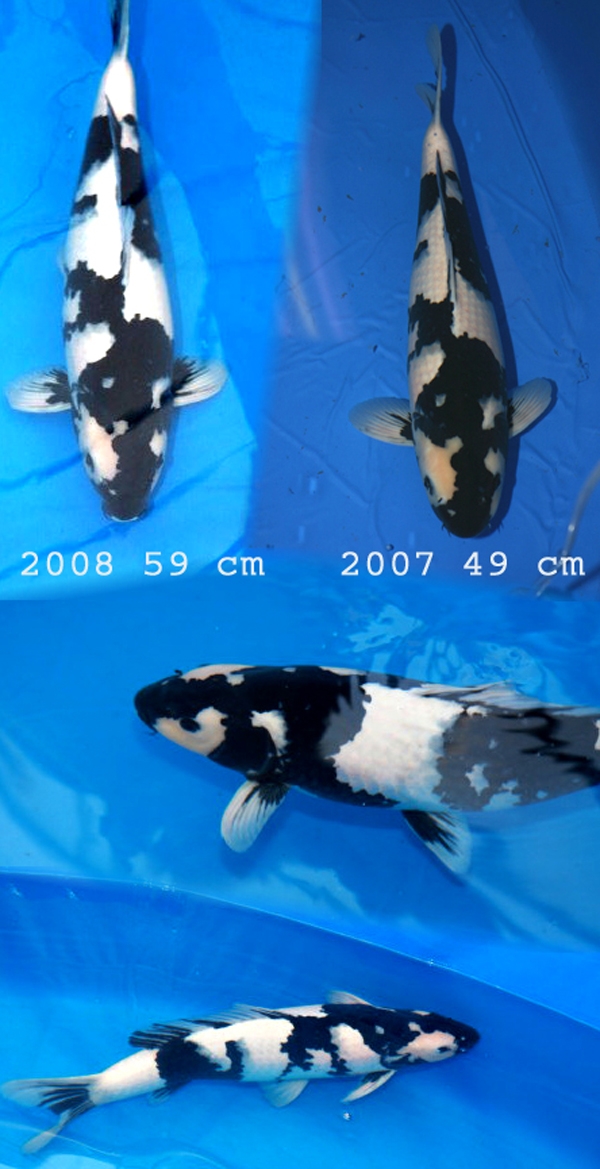 03/11/2008
NOGOSAI HIROSHIMA 2008
Today we were at the breedershow in Hiroshima.
Here all the breeders propose their new harvested koi to the dealers
and hobbyists.

A kohaku from a dealer won the grand champion title.
The breeder of the fish is not known.
Personally I find the mature champion kohaku of breeder Takigawa koi farm much better.
Supreme champion became a Konishi showa, very big but quality not so high.
But the size of the fish ha smade the decision apparently.

SFF is always proposing very good koi at this show but not for the major prize awards.
The best koi at SFF are already sold to his agents and this agents and customers prefer to put their fish on ZNA or Rinyukai koishow.
This shows are only 1 and 2 weeks after the breedershow.
So too short to put them on both shows.
And if the koi are sold, it is the customer who has the last word and
he plays with his koi not the breeder.
We had a nice chat with the SFF family, as it was nice weather,
Kentaro took his whole family to the show as you can see.
He sold a 10 pieces of koi to different agents so he is happy again.
A nice quiet day and in the evening we flew to Tokyo.
Tomorrow we are going to Minuma koi farm near Tokyo.

Oh yeah and we bought another sansai kin showa who played 1st prize
on the show.

So tomorrow goshiki time ! And top goshiki ginrin !

bye for now

Danny and Mie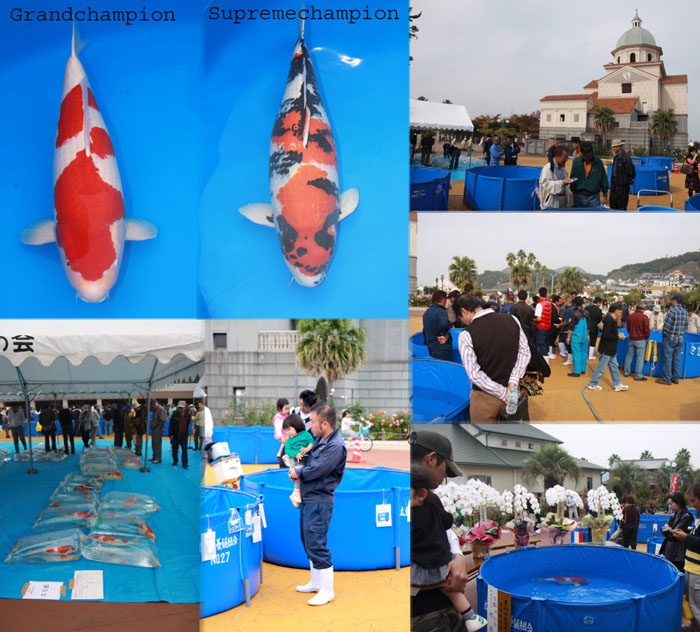 02/11/208
MATSUE KOI FARM IN SHIMANE
We are back in the hotel this evening, very tired but satisfied with what
we have seen today.
It was a long drive to Matsue Koi farm with a lot of roadworks but when
we saw the quality of his kohaku, we were glad we came.
After introducing ourselves as SFF agent and saying the name Koisan,
ice was broken and they brought all their weapons up to show us their
best tategoi and jumbo koi.
Also we saw an old known face Omachi san, who was very friendly to us.

We got proposal of some over 85cm kohaku for koishow.
Very good kohaku !
Then we saw his best nissai sandan kohaku for this year.
Wowwww !!!!
Such a good body ! We took this fish in option for a week.
Then we came to the sansai. There we couldn' t resist to buy a
nidan kohaku, with special pattern and big big body !!!
We decided to put this best sansai on all japan koishow next year and
we let her in Japan for at least another 2 years.
The kiwa and sashi, skinquality and bodyshape are very good !

Then we selected some nissai for our shop. They selected 6 very good pieces for us.
Pricerange between 1250 and 1450 euro.
You can see this fish under koihunting.

Tomorrow we go to the Hiroshima koishow here in Kure.
And this evening we fly to Tokyo because we visit Minuma koifarm on Tuesday.

So until tomorrow with some pictures of the breederskoishow here.

Danny and Michelle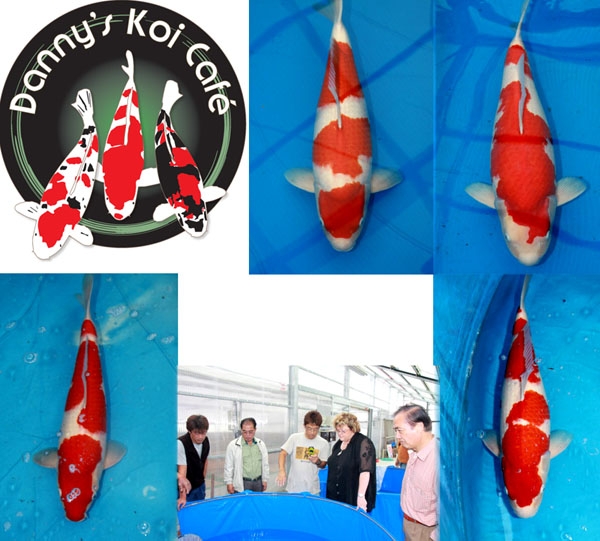 01/11/2008
WHITE AND BLACK RULES TODAY !
Today we were at Omosako koi farm in Kure. We needed a long time
here to see all our koi that are staying at this farm.
And again we must say : everything came out super from the mudpond.

Here you see all new pictures of koi coming out of the mudpond.
Some are from customers some are not sold yet.
They are all white like snow !
And again we had the honnor that Omosako proposed to us the
3 best nissai of the harvests already done.
Still one week to harvest so maybe a better one will come out.
So we took option on these 3 nissai and we will come back.

The showa bloodline was also very good. As example you see here
a showa from Omosako. Also we saw a very good gosai maruten showa with
sumi like on his best shiro ! Stunning !
We think that his big showa is going to win one of the major prize awards
at the All Japan show next year and maybe for the first time Omosako will
become Grand Champion ???

We also bought some cheaper shiro with very good skinquality and pattern.
You can find them under koihunting.
These are like always 500 euro a piece and between 45-55cm.

Today our customers are going home and we maybe visit Matsue koi farm today.

Bye for today

Danny and Mie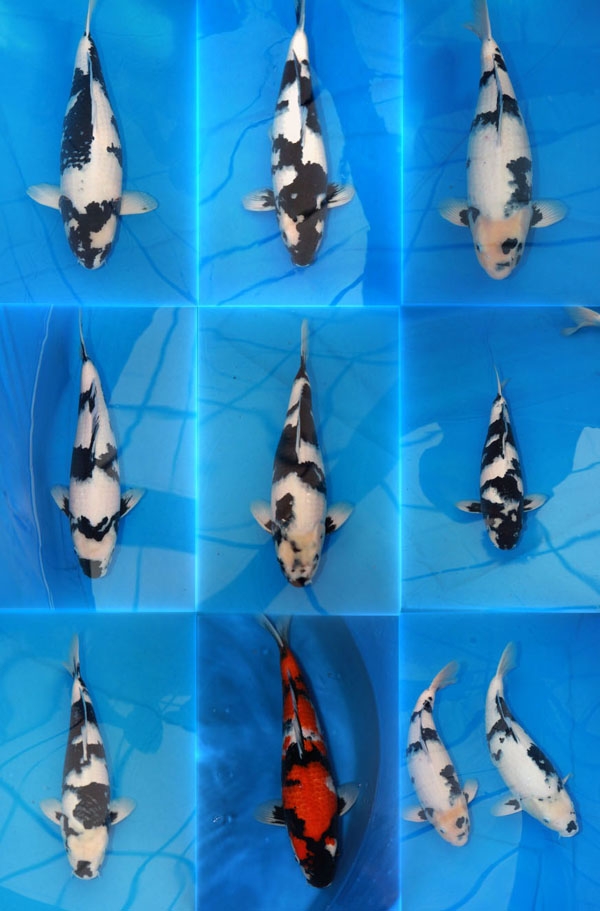 31/10/2008
HARVEST AT SFF TODAY
We and our customers will not forget easily this beautifull day.
We had so much fun and excitement. Two of our customers wanted
to help with harvesting a mudpond of yonsai and gosai.
And they could do this today.
They tell us they had the experience of their live !
They could catch 75-83 cm koi ! What a experience !
The feeling you gett is great !

We bought some very nice and also jumbo koi today.
82cm yamabuki ! 78cm kinki utsuri ! 83cm showa !
They all come to Brugge on 15/11/2008 ! And with very
reasonable prices !
And also we bought some very nice high quality showa nissai.

For days like today we come to Japan, days filled with so
much satisfaction.
You can find our new koi under koihunting.
If you are interested in one of these koi as dealer of hobbyist,
please take contact with us by phone or email.

Now we must take a few hours rest, untill tomorrow.

Danny and Mie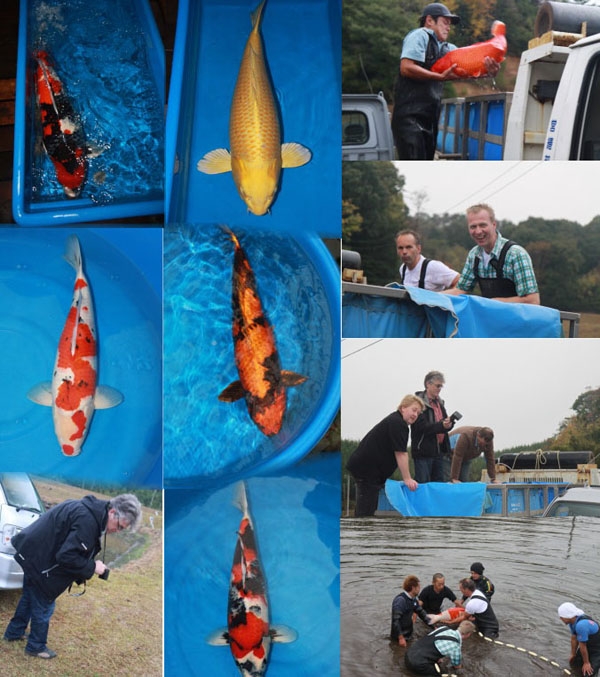 30/10/2008
SFF harvest sansai
Today a group of hobbyists arrived at SFF that are
going to join us for the next 4 days.

We selected some very good sansai today.
It is really so exciting that all fish did so good in mudpond.
Bodies are big and size is exceptional !

Our customers wre also very glad with the evolution of
their koi.
We have 3 koi at SFF going to ZNA show.

Tonight we had a great evening with Kentaro and ou
customers.
Tomorrow we are helping a hand in harvesting a
mudpond of 4 years old koi.

Under koihunting you can find some new purchased koi.

We hope to put all fisch on website tomorrow evening.

Danny and Mie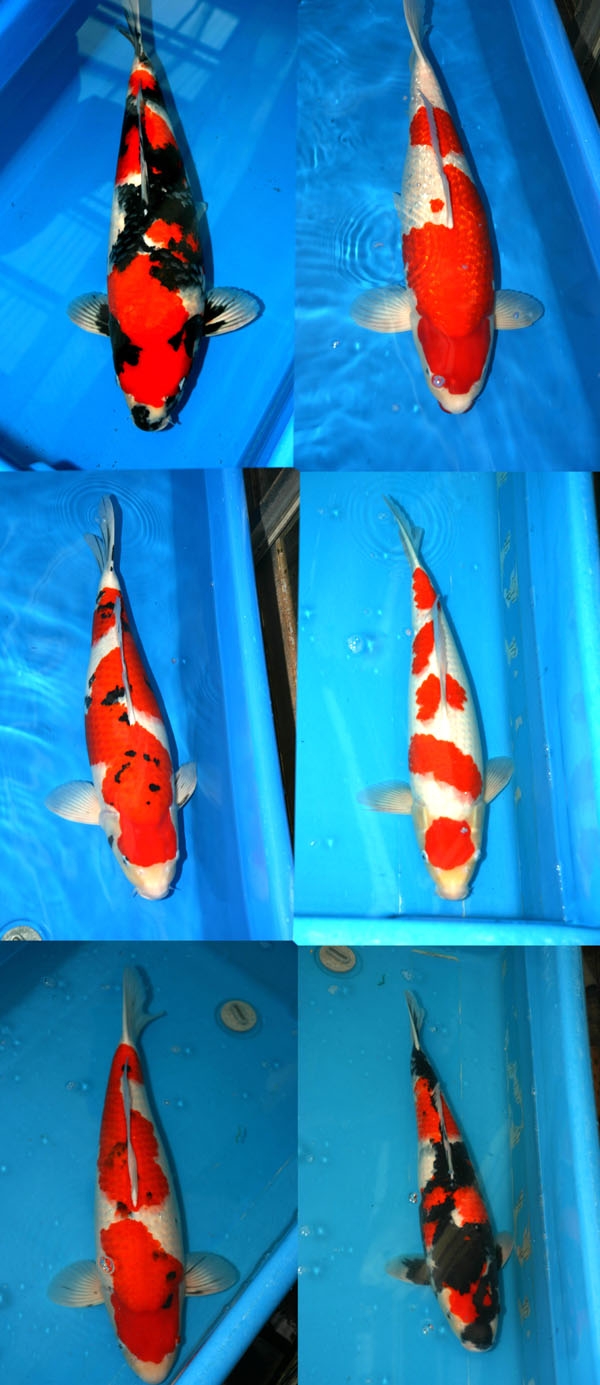 28/10/2008
JAPAN : SFF harvest and nissai selection
Today we spent our first day in Japan at SFF.
Harvest is already going on since Monday.
And wowww ! what a size and body do they have !
Today we selected already a few nissai for our shop.
And we also made some selection for other dealers.
We will show the pictures of the koi tomorrow in
koihunting.
And then the big moment for us today : the harvest !
Our 3 sansai : Tomahawk maruten kohaku, 74cm
our Yamato kohaku and sandan kohaku !
And they all came very good out of the mudpond,
what a relieve.
All 3 are very shiny and ready for koishow in Japan.
They were in one of the best mudponds and came
out gorgeouis !
In the next days we will photograph and measure
all of these koi.

We show you pictures and tell you more tomorrow.

Danny and Mie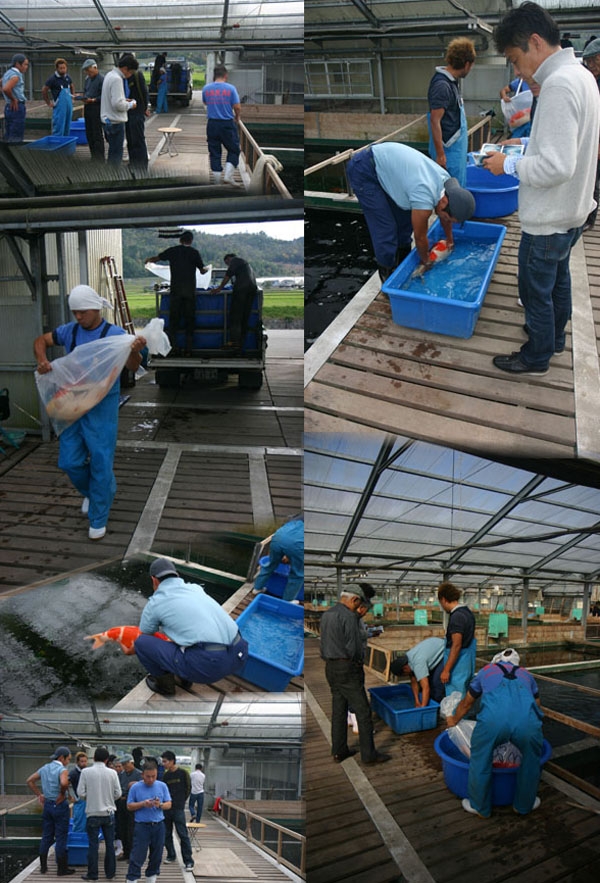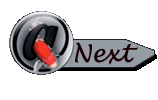 &nbsp
| | | |
| --- | --- | --- |
| | Visites | |
Nb visites aujourdhui :
28

---
| | | |
| --- | --- | --- |
| | Partenairs | |
.jp
.be
.be
.be
.nl
.nl
.uk
.uk
.de
.de
.de
.es
.se
.it
.us
.za